CredoNobis is born out of frustration and with the belief in the positive changes and development possibilities.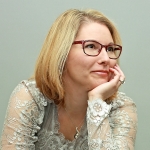 CredoNobis was created in the belief that it is not wrong to make mistakes and we can just learn from those experiences!
My job is my passion, but during the last 25 years in the IT business, I experienced a lot of frustrations due to poor management, lack of strategies, lack of vision, undefined and unclear roles and responsibilities, delayed supplies, inexpedient processes, and most of all failed transformations.
Anyone can learn from the challenges and achieve sustainable management strategies using agile implementation methods. This will not violate the schedule, budget, or product quality and will provide more business agility within the company.
I have seen many clever managers and responsible employees break down with stress while trying to straighten meaningless and badly structured processes and at the same time, trying to calm frustrated customers and motivate team members who are resigning. I have also experienced many transformations, which are not completed before a transformation is embarked on by a "new" and "better" management group.
From my experience and knowledge, I can state, that change management is a very complex discipline and unfortunately also very much underestimated in respect of planning and implementation of changes.
In collaboration with competent and experienced partners, CredoNobis helps you to implement sustainable Agile transformation in your organization.
Miglena Dermendjieva  +45 2538 3855
Certificeringer
Prosci® (ADKAR®) change management
LEGO© SERIOUS PLAY© method
SAFe® Agilist & SPC 4.5
ICF® ACSTH coach
Shadow Facilitator coach
Microsoft Dynamics® Sure Step
CredoNobis ekspertise:
Agile transformations & software development processes
Change management and anchoring processes
Training in Agile methods (SCRUM, KANBAN, Lean Start-up, Design thinking …)
Facilitation of SCRUM and SAFE practices and events
Implementation of collaboration project management tools Azure DevOps and JIRA
Process optimization and project management methods
IT-Governance and management reporting
Creations of strategies and management models
Employee and management coaching
Team-coaching and workshop-facilitating